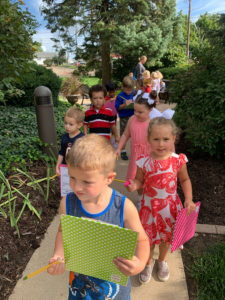 Pre-Kindergarten students are taught by state-certified teachers just like in our Pre-3 program. The goal of the Pre-Kindergarten program is to nurture students spiritually, academically, socially, emotionally, and physically in a positive and safe learning environment. These program goals are met with creative and developmental activities. Our Pre-Kindergarten curriculum is formed from the Catholic Schools Office of the Diocese of Peoria learning standards and the Illinois Learning Standards.
The following is a partial list of activities incorporated into the educational objectives and creative development of our Pre-Kindergarten program. All of these activities assist with each child's transition into the Kindergarten program. Students must be four years old by September 1st.
Religious Education
Reading Readiness Skills
Math Concepts
Stories, Finger Plays and Dramatizations
Music Appreciation
Health and Hygiene
Self-Help Skills
Fine Motor and Gross Motor Skills
Creative Arts
Social Skills
Listening Skills
Our PreK Program offers the following:
8:30 a.m. – 11:15 a.m. Monday – Friday
8:30 a.m. – 3:30 p.m. Monday – Friday
7:00 a.m. – 8:10 a.m. (Optional) Pre Care for Pre-3's and Preschool Students
3:30p.m. – 5:30 p.m. (Optional) After Care Program (Located in the gym and cafeteria)
Students must be four years old by September 1.
Sample Preschool Schedule (Please note all of these activities happen daily, but not necessarily in this order due to weekly specials.)
Greetings and Morning Work
Phonemic Awareness
Specials (Library, Art and Physical Education)
Snack
Centers and/or Recess
Math/Reading Circle
Centers and/or Recess
Prayers and Dismissal